Sometimes, when we visit new places we want to taste something really unique. When you come to Tarnow (Eastern Malopolska or Lesser Poland region) you definitely must try 'Tarninowka Tea' - fruity tea with natural sloe flavor.
This tea is available only in Tarnow and it is made from the highest quality berries of sloe, without any chemical additions.
Tarninowka Tea
'Tasty and mild' people say, Tarninowka Tea gives you energy for the whole day.
We especially recommend to taste the tea either served  COLD with the addition of ice, raspberry or orange juice (such drink is available in some of Tarnow's pubs) or HOT with raspberry juice and something 'stronger' – you know what I mean 
- it is the right way of serving this tea in winter.
Tarninowka Tea is also recommended for those who catch cold easily as it contains more vitamin C than lemons and is rich in vitamin B and mineral salts.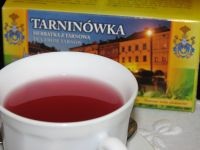 Tarninowka Tea (old package)
Tarninówka Tea is available in two packages: yellow-green and crimson-white (or cream). Unfortunately (for potential collectors) the first version is hardly to be found as it is no longer produced.
Tarninówka Tea in a new package (20 bags) can be bought in Tarnow's Tourism Information Center for less than 2 € or ordered at www.it.tarnow.pl.  But - you may taste Tarninówka completely free of charge - just send an email to This e-mail address is being protected from spambots. You need JavaScript enabled to view it with the subject "I want to know Tarnow's Taste", give your home address and in a couple of days you will receive a tea bag with some touristic folders.